The holiday season is upon us, and what better way to celebrate than with a truly magical experience – a live video chat from the House of Kringle! Imagine the joy and excitement on your child's face as they connect with the jolly man from the North Pole, right from the cozy comfort of your own home. This year, we're bringing the magic of the North Pole directly to you through a virtual Santa visit. Prepare to embark on a thrilling journey that will create cherished memories for your entire family!
In this blog post, we'll explore the enchanting world of a virtual Santa Claus visit, where children can interact with Santa and his helpers like never before. From scheduling an online Santa chat to capturing the moment with a keepsake video, we'll guide you through every step of this memorable experience. So grab a cup of hot cocoa, and let's dive into the festive world of magical online visits to the North Pole!
Experience the Magic: Santa Claus Live from the North Pole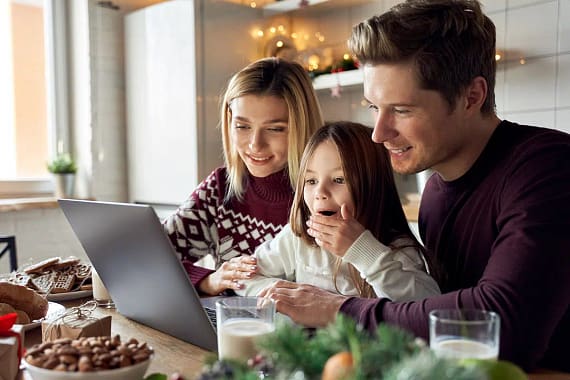 Gone are the days of waiting in long lines at the mall for a quick photo with Santa. An online video chat with Santa Claus offer a convenient and stress-free alternative to traditional in-person visits, allowing your family to enjoy a personalized video chat with Santa Claus himself! This magical experience is tailored to your child's interests, making it feel like Santa knew your child personally.
Whether you plan it for your children or an office meeting, a virtual visit with Santa infuses the holiday season's joy to everyone. Wondering how a virtual visit operates? Let's unravel this mystery!
How Virtual Visits Work
Securing a slot for an online Santa visit is a breeze! All you need to do is schedule a time for a live Zoom call or any other video chat platform. When the appointment is set, your family will plunge into a magical, personalized virtual visit, featuring a master storyteller Santa who'll charm both the young and old.
During the visit, everyone can engage with Santa, asking questions and sharing their Christmas wishes. You all can join in the fun, making it a perfect activity for families in the same household. Plus, you can even capture a screenshot of your virtual visit with Santa and add it to your holiday scrapbook!
Benefits of a Virtual Visit
Safety
No physical contact reduces health risks.
Convenience
Schedule visits from the comfort of home.
Unique Experience
Personalized sessions with Santa.
Cost-Effective
Often cheaper than in-person visits.
Accessibility
Available to those who can't travel.
Memorable Recording
Cherish a recorded session for years to come.
One of the most significant benefits of virtual visits is the convenience they offer. Connecting with Santa from the comfort of your home eliminates the need for travel and waiting in long lines, making the experience enjoyable for everyone involved.
Moreover, a virtual visit is a safe alternative to an in person visit, allowing your children to interact with Santa during a virtual visit without worrying about large crowds or physical contact.
Not only is a virtual visit with santa convenient and safe, but it also provides a unique opportunity to create cherished memories from the comfort of your home. With features such as a treasured keepsake video, personalized letters, and gifts from Santa and his helpers, your online Santa visit will be an unforgettable experience that you will treasure for years to come.
Create Lasting Memories: Keepsake Videos and More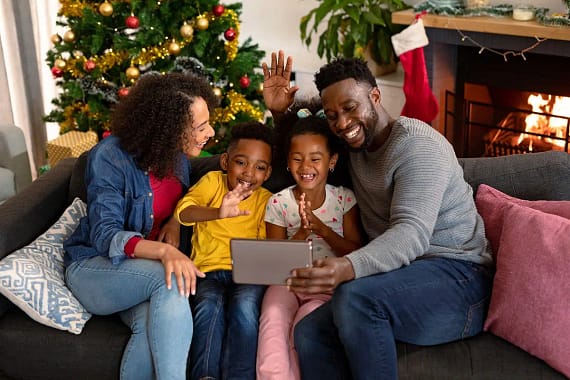 A highlight of any virtual visit is the keepsake video of the entire conversation, allowing you to relive the magic again and again. This special video captures the excitement and joy of your child's interaction with Santa, making it an ideal memento to share with family and friends or include in your family's holiday traditions.
In addition to the keepsake video, House of Kringle offer personalized letters and video messages from the North Pole. These special touches add an extra layer of magic to the experience, further immersing your family in the holiday spirit.
Enduring Keepsakes: Personalized Letters from Santa Claus
A personalized letter from Santa Claus is a delightful addition to the magic that unfolds during your virtual visit. Not only does this handwritten note bring the North Pole closer to home, but it also serves as a tangible memento of a treasured experience. As your child grows, this special letter can become a nostalgic trip down memory lane, solidifying its place in your family's holiday customs.
The personalized letter from Santa boasts the following features:
Crafted with warmth and personal details specific to your child
Can be purchased at the time of booking or after the virtual visit concludes
An excellent surprise to be tucked under the Christmas tree or delivered by magical post
A treasure that embodies the enchanting memories of your child's interaction with Santa, to be cherished for years to come.
Everlasting Reflections: A Personalized Video Message
A personalized video message is an wonderful way to document and cherish the magical moments of your time with Santa during your video call. This on-camera interview or personal profile video captures and preserves your child's stories and memories for future generations, making it an invaluable addition to your family's holiday traditions.
The personalized video message from Santa includes the following features:
Approximately 2-3 minutes long
Can be purchased at time of booking or after the visit is complete
Can be shared with family and friends
Allows everyone to enjoy the heartwarming memories of your child's magical for years to come.
Customer Stories: Magical Moments with Virtual Santa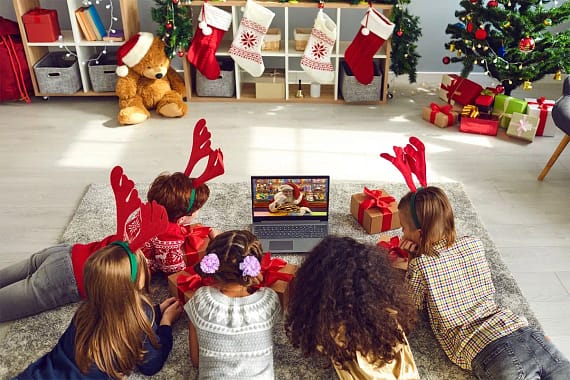 Having navigated the numerous facets of a video call from the North Pole, let's listen to the experiences of those who have been touched by this magic firsthand. We have collected moving customer stories that depict the unforgettable moments crafted through virtual Santa visits, highlighting both children's reactions and parents' viewpoints on this distinctive holiday experience.
Kids' Reactions
The excitement and joy experienced by little ones during an online visit with Santa visit are truly priceless. Each child's reaction is unique, ranging from wide-eyed excitement to shy curiosity. Regardless of their initial reaction, the virtual Santa visit creates cherished memories for the kids, allowing them to connect with Santa in a new and magical way.
Parents have shared countless stories of their children's delight during virtual Santa visits, emphasizing the impact this experience has on their little ones. These happy memories will be cherished by both kids and parents, making the virtual Santa visit a beloved Christmas tradition.
Parents' Perspectives
From a parent's perspective, a video chat with Santa visits offer numerous advantages, including convenience, cost-effectiveness, and safety. Many parents appreciate the ability to connect with Santa from the comfort of their home, eliminating the stress of travel and long lines.
Furthermore, virtual Santa visits provide a personalized and unforgettable experience, making them a cherished holiday tradition for families. Parents have shared stories of the magical moments created through virtual Santa visits, highlighting the joy and excitement experienced by their children.
Spread the Cheer: Virtual Santa Visits for Charitable Causes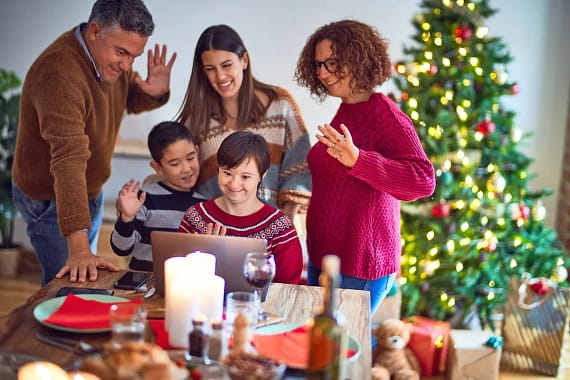 Virtual Santa visits aren't just for individual families – they can also be used to support charitable causes and spread holiday cheer to those in need. By partnering with non-profit organizations and offering fundraising opportunities, an online chat with Santa can make a significant difference in the lives of others.
Partnering with Non-Profits
Teaming up with non-profit organizations provides a wonderful opportunity to employ virtual Santa experiences for noble causes. When you collaborate with organizations aiding children in need during the holiday season, virtual Santa visits can spread joy and the holiday spirit to those who might not get a chance to meet Santa in person.
Non-profit partnerships can also involve hosting a virtual Santa Claus visit as part of fundraising events, such as silent auctions or virtual holiday fundraisers. This allows non-profits to raise funds while offering a unique and memorable experience for donors and participants.
Fundraising Opportunities
Fundraising opportunities with virtual Santa visits are abundant and can have a tremendous impact on the lives of those in need. They can help raise awareness of a cause, as well as provide a unique and unforgettable experience for those involved.
Organizations can partner with non-profits to offer virtual Santa visits that raise funds for various causes, creating a memorable experience for all participants. By incorporating virtual Santa visits into their fundraising efforts, organizations can both support charitable causes and spread holiday cheer to those who need it most.
Packing Up the Sleigh
Virtual Santa visits provide a magical, memorable, and convenient way to connect with Santa Claus and his helpers during the holiday season. From scheduling a virtual visit to capturing the moment with a keepsake video, a virtual Santa visit offers a unique experience that can create lasting memories and cherished holiday traditions for your whole family.
So, why not start a new Christmas tradition this year by scheduling a virtual Santa visit? Embrace the spirit of the season, and let the magic of the North Pole come to life in your home, creating unforgettable memories for years to come.
Related Video Call Posts
---