In today's digital age, connecting with loved ones has never been easier, and now, that same convenience extends to festive traditions. Imagine your child's eyes lighting up as they FaceTime Santa directly from your living room. No need to bundle up in winter wear or navigate crowded spaces, as the timeless charm of Santa Claus comes alive on your screen. Dreaming of this captivating experience that combines tradition with modern technology? House of Kringle is here to turn that dream into a reality, offering a magical experience without the conventional stress of mall visits and long queues.
The Revolutionary Way to Meet Santa – FaceTime!
Santa FaceTime Visits – A New Age Delight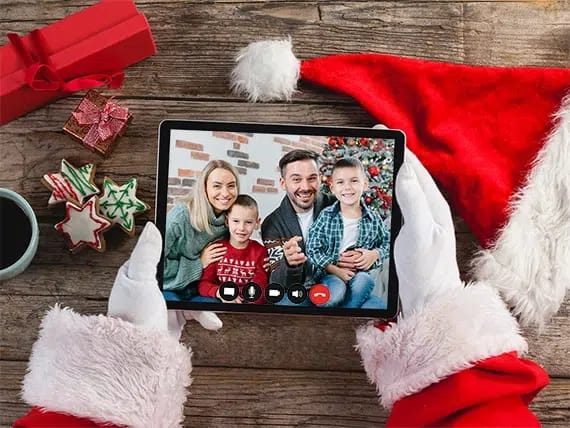 Traditional Santa visits are a thing of the past. With the House of Kringle's service, Santa comes alive directly in your living room. Children can now enjoy the wonder of a call Santa video chat whenever they desire.
In yesteryears, the thrill of meeting Santa Claus was often reserved for bustling malls or crowded festive events, but those traditional Santa visits are swiftly becoming relics of the past. House of Kringle's innovative service has transformed the way children interact with the jolly old elf. Instead of waiting in long lines, Santa on FaceTime comes alive directly in the cozy confines of your living room, bringing the North Pole's magic straight to your home.
With this service, children aren't just limited to a fleeting moment with Santa; they can now revel in the enchantment of a call Santa video chat at their convenience. It's a modern twist on a beloved tradition, ensuring that the spirit of Christmas remains as vibrant and magical as ever.
Why Opt to FaceTime with Santa?
Convenient & Safe: No more navigating crowded malls or enduring tedious lines. Settle down in a comfy spot in your home and watch the enchantment happen. This method ensures everyone's safety without diminishing the magic!
Captivating & Fun: Broadcasting live from the North Pole, the FaceTime Santa video experience isn't just a chat. Children will be enthralled seeing glimpses of Santa's workshop in the background, making it a truly immersive experience.
Priceless Memories: The experience transcends the call itself. With the Santa on Facetime service, you'll secure a keepsake video to treasure and share with your loved ones.
Personalized Messaging: Before the FaceTime with Santa session, you can share details about your child. When Santa, with his jovial voice, mentions their favorite color or teacher's name, the delight in your child's eyes will be unparalleled.
Authenticity at its Best: No Green Screens Here!
While many virtual Santa services utilize green screens, House of Kringle prioritizes authenticity. They've meticulously crafted two lifelike physical sets:
Santa's Workshop: A bustling place where the magic of Christmas comes alive, and toys are made.
Santa's Living Room: A heartwarming setting complete with a cozy lit fireplace, the perfect place for Santa to unwind and chat.
By forgoing green screens, House of Kringle offers a genuine, tangible ambiance that's incomparable to digital backdrops. Your child won't just see Santa; they'll feel like they've stepped right into the North Pole!
How to FaceTime Santa – A Simple Guide
Pondering how to facetime santa 2021 or even in 2023? House of Kringle makes it effortless. Here's how:
Visit our Bookings page: Discover all the essentials there.
Secure Your Slot: Select a convenient date and time to FaceTime call Santa.
Tailor Your Call: Input your child's particulars to make the session truly unique.
Connect with Santa: When the day arrives, click on the given link, and there you have it! A memorable FaceTime call with Santa.
Packing Up the Sleigh
Meeting Santa Claus has always been a cherished tradition, evolving with the times to suit our modern lives. House of Kringle's innovative Santa FaceTime service goes beyond offering just a fleeting moment of wonder for your child. It seamlessly intertwines modern technology with the enchanting age-old allure of Christmas magic.
As we embrace these contemporary ways of celebrating, we're reminded of the timeless joy that the festive season brings. Here's wishing you and your loved ones joyous festivities filled with warmth and memorable moments!
---
Don't just read about the magic; experience it firsthand! Secure your spot at the House of Kringle and book your video call to FaceTime Santa Claus. Make this holiday season truly magical for your loved ones!