Indulge in the flavors of the season with House of Kringle's recipe for Swedish Christmas Cookies with Walnuts and Cardamom. These delicious and aromatic cookies are the perfect addition to any holiday gathering, and are easy to make with just a few simple ingredients. Get the recipe now and impress your friends and family with these festive treats!
Magical Moon-shaped Swedish Christmas Cookies And A Walk Under The Lights
I was sitting and remembering one of my trips to Gothenburg in Southern Sweden. Oh, the Swedes know how to do Christmas, and they know how to do cozy.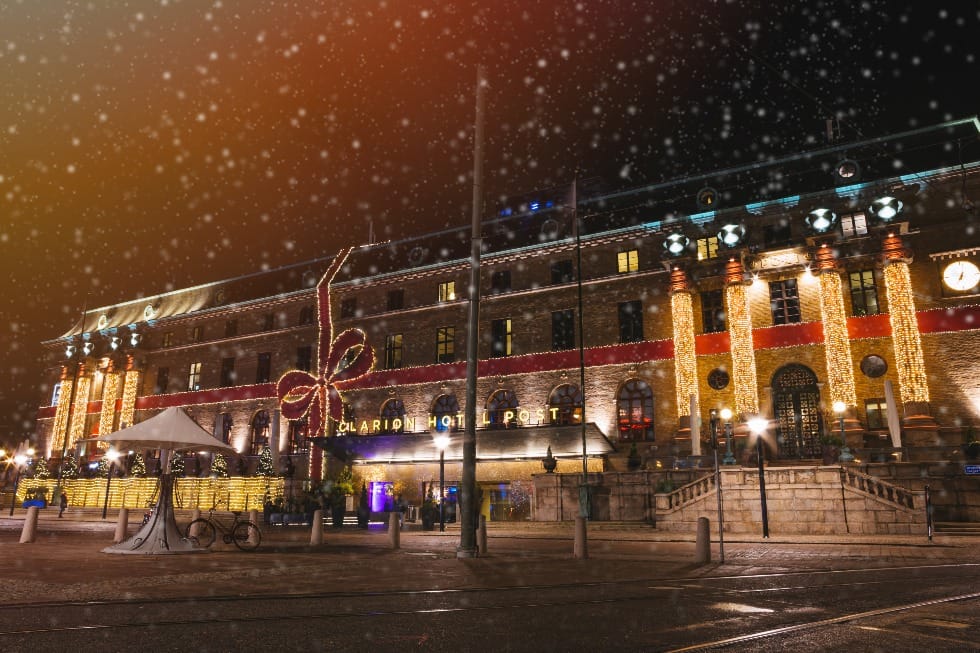 I was meandering around a famous amusement park there called Liseberg, just marveling at the sites.
Thousands of candles and fairy lights set the scene before me. Children were ice-skating alongside giggling parents, and all around me was the sound of happy carol singers: what a joy and a privilege it was to be among them all.
As I walked among the crowds, I could smell almonds roasting nearby. I could hear the sound of glasses clinking together as folks sipped spiced mulled wine. Little groups of friends sat together, chatting about the year that had just passed them by, babes asleep beside them in their prams.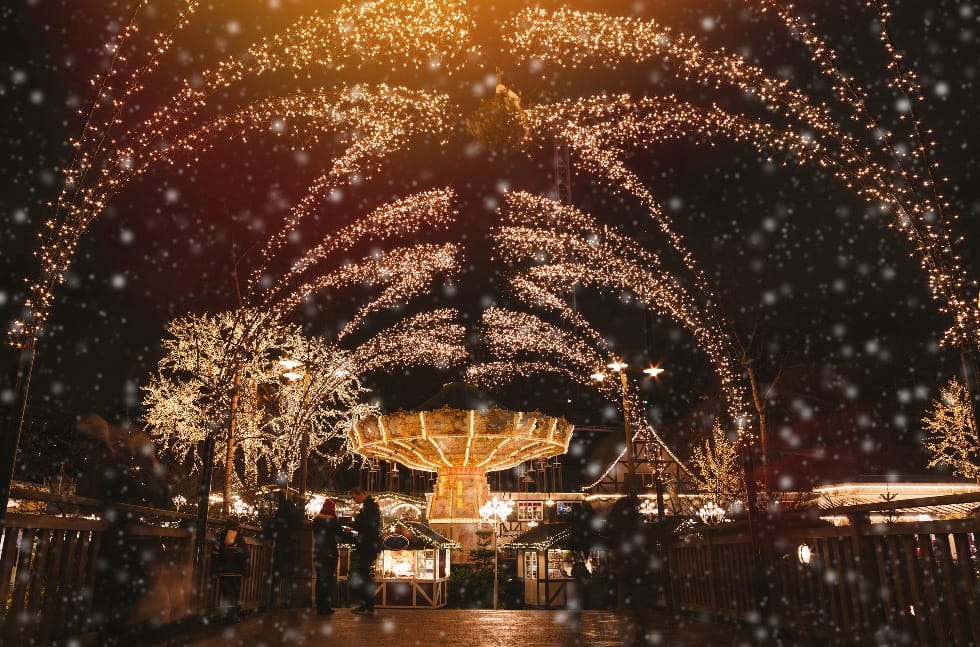 Somewhere in this happy haze of Christmassy bliss, I noticed a stall of the prettiest little moon-shaped treats I'd ever seen. Dusted in white, they looked as though a bit of snowfall had happened upon them. And so, of course, me being me, I needed to taste one of the Swedish Christmas cookies in front of me.
What a delight! A hit of fresh cardamon alongside the rich flavor of walnut and vanilla. Perfectly balanced and finished off with a slap of powdery icing sugar.
You've got to try these Swedish Christmas cookies for yourself. I think you are going to love them to the moon and back! If you're looking for a recipe for Christmas cookies without baking powder, these are for you.
Substitutions and Variations For Swedish Christmas Cookies
Walnuts: if you can't get your hands on walnuts, you can make these cookies with ground almonds, hazelnuts, or pecan nuts. If you go with almonds or hazelnuts, make sure they are skinless.
Cardamon: if cardamon is not what you're after, or you can't find any, try cinnamon or chai spice as a lovely alternative.
Flour: instead of all-purpose flour, use gluten-free flour at a ratio of 1:1.
Butter: you can use margarine in this recipe if you'd like to.
Storage and Shelf-life For Swedish Christmas Cookies
Store your Swedish cardamom walnut crescent cookies in an airtight container. They will keep for 10-14 days if kept away from direct heat.
You can also freeze these cookies. Lay them out on a baking sheet and freeze them on the sheet. Once they are completely frozen, you can place them gently into freezer-safe bags.
It's a good idea to layer the cookies with paper between them so that they don't stick or break.
These cookies will keep in the freezer for around 2 months.
Freezing these cookies is such a great way to get a head start on your Christmas-time baking.
Tips For Getting The Best Swedish Cardamon Cookies
Your butter must be chilled to get the right texture and cookie dough.
The quality of your cardamon is key. Consider buying fresh green whole cardamon and grinding the seeds up. This will make a huge difference to the flavor.
If you want a great texture, grind up your nuts in a food processor until extra fine.
What You Will Love About Swedish Christmas Cookies
Here are a couple of reasons to make this recipe and what you'll love about it:
They are the loveliest shape and look really artisanal.
The cardamon flavor is so unique and almost refreshing in its taste.
They're loaded with healthy nuts, and full of nutrients.
They can be frozen in advance and then whipped out in small batches when people are coming over.
They are a versatile base that can have other flavors added, like lemon, cinnamon, matcha, etc
They are a great Christmas cookie without baking powder.
Health Benefits Of Walnuts
Let's dive into all the wonderful benefits of walnuts. These nuts are readily available, making them an easy source of nutrition.
Antioxidants: can you believe that walnuts have some of the highest anti-oxidant levels found in any other common fruit?
Top plant source of Omega-3s. Walnuts have significantly more Omega-3 than any other nut. This benefit aids in health heart health.
Helps to control blood sugar levels and may have positive results for diabetics.
Supports a healthy gut by providing health-promoting bacteria.
Aids good brain function as a result of Vitamin E. This and a few other contributors are said to lower inflammation in the brain.
Wrapping It Up
Try these wonderful little moon-shaped treats for something a little special this Christmas. Pack them up with a pretty paper in a container as a gift or lay them out on a platter for an easy dessert idea.
Cookies with ice cream are always a good idea and these Swedish Christmas cookies are no exception. Pop them into a bowl with a scoop of chocolate ice cream and you'll be all set!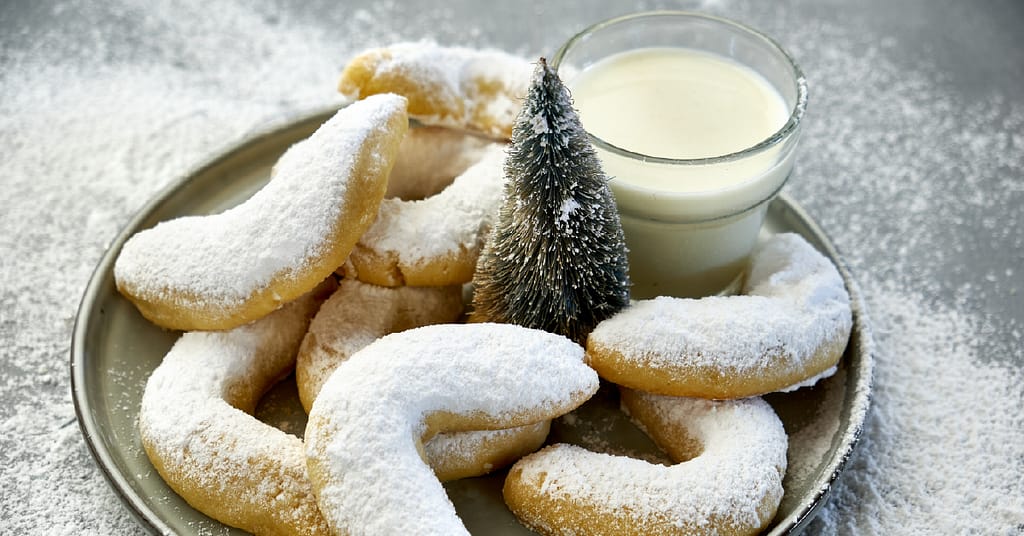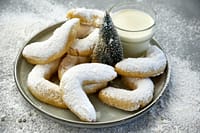 Swedish Christmas Cookies With Walnuts And Cardamon
What a delight! A hit of fresh cardamon alongside the rich flavor of walnut and vanilla. Perfectly balanced and finished off with a slap of powdery icing sugar.
Print
Pin
Rate
Ingredients
1

cup

walnuts

1

tsp

ground cardamom

¾

cup

confectioner's sugar/icing sugar

1

cup

cold butter

cut into cubes

2

tsp

vanilla extract

2

cups

all-purpose flour

½

tsp

salt

½

cup

confectioner's sugar

for dusting
Instructions
Preheat the oven to

350

°F

Grind the walnuts, cardamon, and sugar into a fine flour in a food processor.

1 cup walnuts,

1 tsp ground cardamom,

¾ cup confectioner's sugar/icing sugar

Into the food processor, add the cold, cubed butter and vanilla, and pulse until the butter is totally incorporated.

1 cup cold butter,

2 tsp vanilla extract

Add in the flour and salt and process until everything comes together in a dough. Don't overmix it.

2 cups all-purpose flour,

½ tsp salt

Turn the dough out onto a floured surface. Bring everything together with your hands – you might want to coat your hands with flour.

Divide the dough into 3 sections. Roll each section out into a log shape, wrap it with plastic and refrigerate for 1 ½ hours.

Take one of the logs out of the fridge and cut it into 1 inch / 2.5cm pieces and form the crescent shapes.

Bake them on a greased baking tray or a baking mat for 11-12 minutes until slightly browned around the edges.

Cool the cookies on their baking tray.

Dust the cookies with the extra confectioner's sugar once they have cooled.

½ cup confectioner's sugar

These cookies with keep in an airtight container for 5-7 days out of the refrigerator.
Nutrition
Calories:
153
kcal
|
Carbohydrates:
15
g
|
Protein:
2
g
|
Fat:
11
g
|
Saturated Fat:
5
g
|
Polyunsaturated Fat:
3
g
|
Monounsaturated Fat:
2
g
|
Trans Fat:
0.3
g
|
Cholesterol:
20
mg
|
Sodium:
110
mg
|
Potassium:
36
mg
|
Fiber:
1
g
|
Sugar:
4
g
|
Vitamin A:
237
IU
|
Vitamin C:
0.1
mg
|
Calcium:
9
mg
|
Iron:
1
mg