Introduction
What country pops into your head when you think of snowy steeples, Christmas cookies, and Christmas markets?
If you guessed Germany, you get 100 Christmas-themed points! Why not spend some time at Christmas in Germany?
You may think you're already very familiar with German Christmas traditions because it seeps into the cultural zeitgeist worldwide. Still, today we will take our sleigh over to Germany to discover traditions old and new together.
Let me just have a sip of non-alcoholic Glühwein to get me in the mood (I'm driving, don't you know), and we'll be off!
When does Germany Celebrate Christmas?
Many places worldwide celebrate Christmas on December 25th, but the main event is Christmas Eve in Germany. People will rush around finishing up their last bits of preparations, like picking up the duck they ordered especially or finding one last gift for their mother-in-law.
As the sky darkens, people will gather around to decorate the tree. That's right; traditionally, the fully decorated tree isn't unveiled until Christmas eve. Some people have adopted the more American tradition of setting it up earlier in the month, but they will still add their final touches on Christmas Eve. Picture lots of ornaments, tinsel, and lights. The tree is then left up until January 6th to celebrate the 12 days of Christmas.
For many people in Germany, midnight mass is part of a typical Christmas Eve. There is singing, a retelling of the Christmas story, and when they return, presents will appear under the tree as if by magic.
German Christmas Traditions: Christmas Stockings and Santa Claus in Germany
Germans have a unique celebration in the lead-up to Christmas that can serve as an elaborate ploy to get your kids to shine their shoes. On December 6th, Germans Celebrate Saint Nicholas. He may look a lot like good ol' Saint Nick, but this mystical character is usually dressed all in white like a bishop.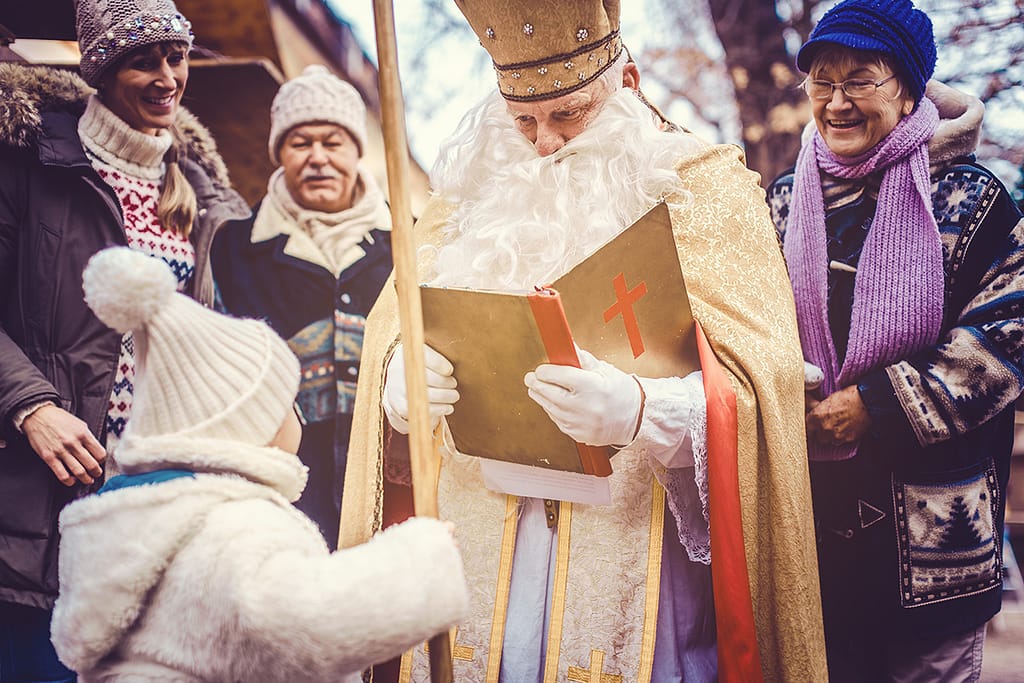 German kids, young and old, will receive stockings filled with clementines, chocolate, and small presents stuffed into their freshly shined shoes. Tradition also dictates that Nikolaus' companion Knecht Ruprecht will leave coal in their shoes if they've been naughty.
Later, when Luther started the Protestant movement in Germany, he wished to replace the Catholic focus on saints by introducing the Christ Child (Christkindl), bringing gifts for Christmas eve. Since Germany is relatively evenly divided between Protestants and Catholics, both traditions exist side by side.
Later on, the Weinachtsmann (Father Christmas) replaced the Christkindl in many Protestant homes, and the Christkindl would even become used in English vernacular as Kris Kringle. Sound familiar? We here at House of Kringle are big fans.
What are German Christmas Markets?
Can you imagine Christmas in Germany without the markets? Tourists from all around the world flock to the country to experience this special Christmas magic for themselves.
Germans see Christmas markets as a perfect way to meet friends in the lead-up to Christmas Eve, buy some unique, handcrafted presents, and enjoy the Christmas carol concerts and Santa performers.
Imagine a cross between a fun fair and a traditional market, and you'll be able to picture the energy found in most Christmas markets. There are often Ferris wheels, fair food, and stalls selling mulled wine all over the place.
Christmas Food and Drink in Germany?
Throughout this article, you have already heard us mention mulled wine, or Glühwein, several times. This quintessential German Christmas beverage consists of hot red wine mulled with spices. When you attend a Christmas market, you will be served your Glühwein in a ceramic mug created for the market with the year imprinted on it. You can either keep this as a souvenir or return it and get some money back.
The daredevil German may have a Feuerzangenbowle (Fire Tong Punch) instead, which involves adding high percentage rum to the mulled wine and setting it on fire! We promise it's delicious. Just be mindful of your fingers.
Germany's sweet Christmas food offerings includes everything from Lebkuchen (ginger bread) to Stollen, a sweet bread rolled in powdered sugar with raisins. In Germany, the Christmas season is also synonymous with marzipan. It is part of many holiday baking traditions or can be bought as Marzipankartoffeln (literally marzipan potatoes), which are just balls of marzipan rolled in cocoa to imitate the look of potatoes.
The traditional German Christmas feast usually centers around goose, rabbit, or duck. The main is accompanied by apple stuffing, red cabbage, and potato dumplings.
Some German families reserve this meal for Christmas day with the extended family and have Raclette as their traditional Christmas Eve meal, and Raclette originally comes from Switzerland. An electric Raclette grill is placed on the table. Each dinner guest creates their own combinations of meats, vegetables, seasonings, and cheese in little broiling dishes. It's a very interactive dinner, perfect for people with differing tastes and allergies.
The Adventskranz or Adventwreath
You probably have an Advent calendar, but have you heard of an Adventskranz? Advent is the traditional name for the Christmas season, and it begins on the first Sunday after November 26th. In Germany, this lead-up to Christmas is celebrated every Sunday by lighting a candle on their Adventskranz (Advent wreath). The wreath of pine cones, dried flowers, and ornaments sits proudly on the table and inspires reflection and gratefulness. Some people have added a 5th candle to be lit on Christmas Eve, but traditionally, you'll find four candles on the wreath.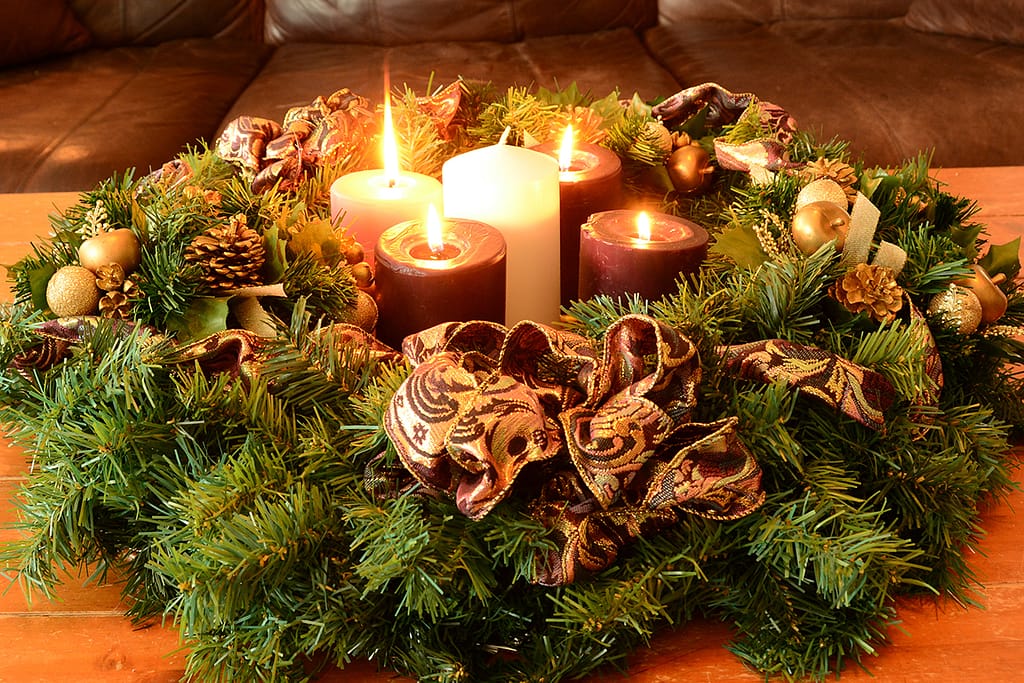 Conclusion
We hope you enjoyed your Christmas visit to beautiful Germany. Did you pick up a lovely wooden ornament on the market? Let us know what your favorite German Christmas tradition is. We love potato dumplings and will make them part of our Christmas meal this year.
Merry Christmas from us at House of Kringle to you and your family. These explorations of Christmas traditions worldwide are meant to inspire togetherness for all of us.
Are you feeling up for baking something quintessentially German this Christmas season? Have a look at our famed Pfeffernus recipe.
If you enjoyed this article, you'd love our article about Christmas Traditions in India!